»

»

Planetwin365 – Italian Online Partner for The Festival Series
Planetwin365 – Italian Online Partner for The Festival Series

April 13, 2023 · 2 minutes to read

Planetwin365 is one of the largest betting operators in Italy with a strong online Sportsbook and Gaming offering as well as 1,000 retail betting outlets. The Planetwin365 Poker Room is very popular among recreational players and is offering satellites to win guaranteed The Festival Series ME SEATS every Tuesday, Friday and Sunday running from April 7th to May 7th.
About Planet365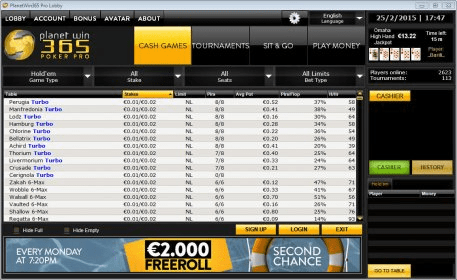 Planetwin365 is an online sports betting and gaming platform operated by SKS365 Group, a company headquartered in Malta. It offers a wide range of sports betting options, including football, basketball, tennis, and many other sports from around the world.
In addition to sports betting, Planetwin365 also offers online casino games such as slots, table games, and video poker, live dealer games as well as a standalone Poker Room.
Planetwin365 Poker is one of the largest poker rooms in the Italian market and is very popular among recreational players. It offers a variety of tournaments and cash games and is the only room in Italy to offer PLO5. New players receive a €1,000 Welcome Bonus on logging into the Poker Room for the first time.

Planetwin365 also powers the Planet Poker Live series of live tournaments. The most recent tournament took place in Malta with the main event attracting 733 entries, generating €350,000 in prize money, and attracting players of 28 different nationalities.
Satellites to The Festival Series are running from April 7th to May 7th with €550 seats guaranteed to be won every Tuesday, Friday, and Sunday. Players winning seats will also avail of discounted hotel packages through The Festival Series organizers.
Planetwin365 satellites to The Festival in Malta
As the same as on our other partner's poker room Planetwin365 satellites are built up by step method. You can start with freerolls so if you don't have yet a massive poker bankroll you should not worry about it! You can start your journey to Malta's glory by owning anything in your pockets.
| | | | | |
| --- | --- | --- | --- | --- |
| Day | Starting time | Tournament Type | Buy-in | Guarantee |
| Tue, Fri, Sun | 10:30, 13:30, 16:30 | STEP 1 | Freeroll | 15 x €1 STEP 2 TICKET |
| Tue, Fri, Sun | 11:00, 12:00, 14:00, 15:00, 17:00, 18:00 | STEP 1 | €0.10c | 5 x €1 STEP 2 TICKET |
| Tue, Fri, Sun | 11:30, 12:30, 14:30, 15:30, 17:30, 18:30 | STEP 1 | 1 FPP | 5 x €1 STEP 2 TICKET |
| Tue, Fri, Sun | 13:00, 16:00, 19:00 | STEP 2 | € 1 | 10 x €10 FINAL TICKET |
All times in CET
Planetwin365 Finals Schedule:
| | | |
| --- | --- | --- |
| Date | Buy-in | Guaranteed |
| 07.04 21:00 CET | €10 + R | € 550 The Festival Malta ME ticket guaranteed |
| 09.04 21:00 CET | €10 + R | € 550 The Festival Malta ME ticket guranteed |
| 11.04 21:00 CET | €10 + R | € 550 The Festival Malta ME ticket guranteed |
| 14.04 21:00 CET | €10 + R | € 550 The Festival Malta ME ticket guaranteed |
| 16.04 21:00 CET | €10 + R | € 550 The Festival Malta ME ticket guaranteed |
| 18.04 21:00 CET | €10 + R | € 550 The Festival Malta ME ticket guaranteed |
| 21.04 21:00 CET | €10 + R | € 550 The Festival Malta ME ticket guaranteed |
| 23.04 21:00 CET | €10 + R | € 550 The Festival Malta ME ticket guranteed |
| 25.04 21:00 CET | €10 + R | € 550 The Festival Malta ME ticket guranteed |
| 28.04 21:00 CET | €10 + R | € 550 The Festival Malta ME ticket guaranteed |
| 30.04 21:00 CET | €10 + R | € 550 The Festival Malta ME ticket guaranteed |
| 02.05 21:00 CET | €10 + R | € 550 The Festival Malta ME ticket guaranteed |
| 05.05 21:00 CET | €10 + R | € 550 The Festival Malta ME ticket guaranteed |
| 07.05 21:00 CET | €10 + R | € 550 The Festival Malta ME ticket guaranteed |

Qualify for The Festival in Bratislava

Play

18+ | Play Responsibly | T&C Apply